---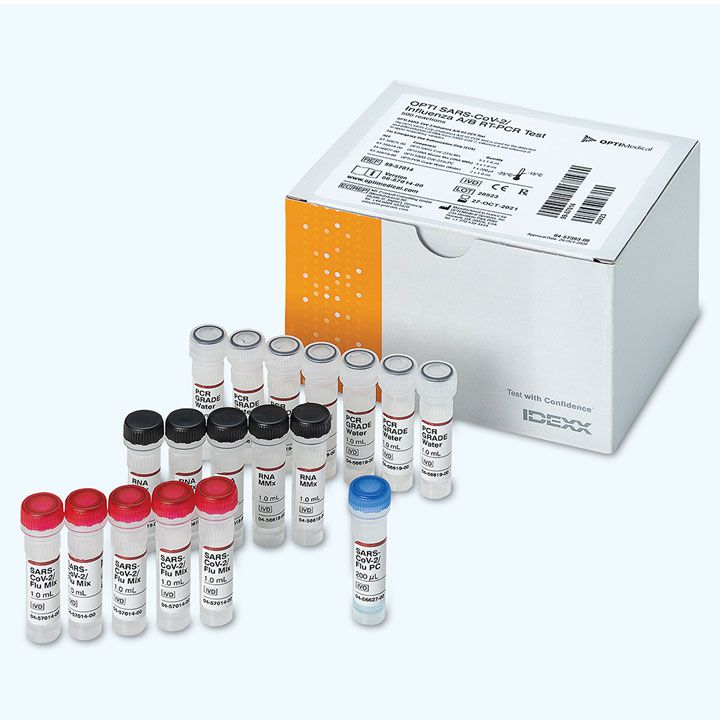 OPTI SARS-CoV-2/Influenza A/B            RT-PCR Test
OPTI Medical Systems has obtained US FDA Emergency Use Authorization and CE marking for its OPTI* SARS-CoV-2/Influenza A/B RT-PCR Test for identification and differentiation of SARS-CoV-2, influenza A, and influenza B RNA.
This respiratory panel distinguishes between SARS-CoV-2, influenza A and influenza B extracted from nasopharyngeal swabs. Use of this test is ideal for identifying the cause of symptoms during influenza season.
Distinguish between COVID-19 and flu
Multiplexed detection and differentiation of three viruses simultaneously.
Validated on common PCR instruments: Applied Biosystems* 7500, QuantStudio* 5, Roche LightCycler* 480 II, Bio-Rad CFX96 Touch*, Bio Molecular Systems Mic qPCR Cycler.
Detection of two different targets in the N coding region of SARS-CoV-2, avoiding the S mutations found in recent variants.
Monitoring of new variants of SARS-CoV-2 to ensure the test is not impacted by viral mutations.
Optimized workflow from start to finish using an internal sample control targeting human RNase P.
Combine this test with the OPTI* DNA/RNA Magnetic Bead Kit for a complete solution.
Performance
The OPTI SARS-COV-2/Influenza A/B RT-PCR Test delivers highly accurate results with high sensitivity (LoD ≤1.09 copies/μl). Results are available as fast as 2 hours, including RNA extraction. The test detects SARS-CoV-2 variants of concern based on the sequences submitted to the GISAID database. Download the poster to learn more about the workflow, instrument compatibility and performance of the test.
IDEXX Laboratories, the parent of OPTI Medical Systems, has extensive expertise in PCR test development and manufacturing.
OPTI DNA/RNA Magnetic Bead Kit
The OPTI DNA/RNA Magnetic Bead Kit is intended for extracting RNA from respiratory samples for subsequent analysis with the OPTI SARS-CoV-2/Influenza A/B RT-PCR Test. The extraction kit requires minimum hands-on time (less than 15 minutes) when used on automated magnetic separators, such as Kingfisher™ purification systems, for high-throughput sample processing.
Interested in more COVID-19 testing solutions?
Contact information for inquiries related to COVID-19
*OPTI is a trademark or registered trademark of IDEXX Laboratories, Inc. or its affiliates in the United States and/or other countries. All other product and company names are trademarks of their respective holders.
Product disclosure
The OPTI SARS-CoV-2/Influenza A/B RT-PCR Test has been authorized by the United States Food & Drug Administration (FDA) under an Emergency Use Authorization issued by the FDA on April 21, 2022. This test has not been FDA cleared or approved, and the FDA has not determined that the test is safe or effective for the detection of SARS-CoV-2, influenza A and influenza B. The test has been authorized only for the detection of nucleic acid from SARS-CoV-2, influenza A and influenza B, and not for any other viruses or pathogens. The test is only authorized for the duration of the declaration that circumstances exist justifying the authorization of emergency use of in vitro diagnostics for detection and/or diagnosis of COVID-19 under Section 564(b)(1) of the U.S. Federal Food, Drug, and Cosmetic Act, 21 U.S.C. § 360bbb-3(b)(1), unless the authorization is terminated or revoked sooner. Use in the United States is limited to laboratories certified under the Clinical Laboratory Improvement Amendments of 1988, 42 U.S.C. § 263a (CLIA) to perform high complexity tests. The test is not intended for home use.
The OPTI SARS CoV 2/Influenza A/B RT-PCR Test has obtained CE marking. This CE mark certification represents OPTI Medical Systems' assurance that its test complies with the European Union's In Vitro Diagnostic Medical Devices Directive, which applies to products that are manufactured in or designed to be sold in the European Economic Area† and Switzerland.
† The European Economic Area includes the European Union (Austria, Belgium, Bulgaria, Croatia, Republic of Cyprus, Czech Republic, Denmark, Estonia, Finland, France, Germany, Greece, Hungary, Ireland, Italy, Latvia, Lithuania, Luxembourg, Malta, Netherlands, Poland, Portugal, Romania, Slovakia, Slovenia, Spain, and Sweden) and the following countries: Iceland, Liechtenstein, Norway, and United Kingdom.
---